Sara Stricker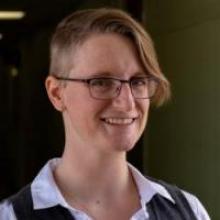 This year was pretty strange. Instead of having face-to-face classes and hosting lab seminars, we went entirely online. Typically, our lab seminars in the Plant Pathology course would involve bringing in fresh plant samples and helping the students use tools to diagnose plant diseases. This year, I found myself holding plant samples up to the camera, trying to get it to focus, and remarking to myself, "I wish you had a microscope at home" or "I wish you could SMELL this!" and "I wish you were here". I also found myself answering emails at all hours of the day, mostly a few hours before the next assignment was due.
In my opinion, a large part of the university experience is working together with your peers and problem-solving. One of the tools I used to try to facilitate the formation of community and cooperation was breakout rooms on Zoom. I created several Google Sheets which were set up with headers relating to the case studies we had covered, and rows asking for specific information about each. After each lab lesson, I created breakout rooms; one for each case study. I then popped into each breakout room and asked each student to tell me about something like their plans for the upcoming holiday, their favourite animals, or a different course at the university that they enjoyed. I also shared something about myself and my life, and then gave them the link to the Google sheet to work together to fill in. Then I repeated the process with the other breakout rooms. Once all of the groups were working on their respective case study, I stayed in the main Zoom room to let them chat with their peers or they could call me for help. After about 20 minutes, or whenever I saw that the Google Sheets were mostly finished, I would close the breakout rooms. At that point the students could ask any final questions or ask me for one-on-one help with their next assignment.
The goal of this activity was to allow the students to have a venue to meet and chat with their peers, and work through the questions together. Personally, I enjoyed these breakout rooms because the students felt comfortable to turn on their webcams and talk with me in the smaller group setting. This helped me put a name to a face, literally, and make personal connections with the students. By having small conversations, I hoped to make myself approachable and available for the students to talk to me in a low-pressure situation. Other aspects that I incorporated into my seminars include using humor, creating memorable similes or acronyms that help the students remember facts, starting each session with one or two minutes of music (with a song specifically relating to the lesson), taking forced breaks of 5-10 minutes at least once per hour, and using Zoom's annotate function or yes/no poll to check-in with the students' personal wellbeing and understanding of the course content.
Overall, I had a lot of positive feedback from the students saying that this was their favourite lab to attend, and that I was their favourite TA. I think this is largely due to my community-building efforts, in combination with my insertion of humor and enthusiastic presentation of the material. I tried to make each lesson a little different or memorable. For example, on the last day of class we had a Pyjama party and a few special guests showed up (see below photo).
Contact Us
E-mail the Office of Teaching and Learning (otl@uoguelph.ca) with any questions related to your teaching and learning needs.
Upcoming Events & Workshops