Introduction to Collecting Feedback from Students
Gathering and responding to student feedback is important; it allows us to continually enhance our teaching related skills and behaviours. It provides insight into what is being learned in the classroom and highlights areas for improvement. Responding effectively to students' input demonstrates your commitment to the learning process and to building a sense of learner-TA community.
Guidelines for Collecting Student Feedback
Consider the following points when collecting student feedback to help obtain meaningful results:
Anonymity: Encourages students to be honest and reduces anxiety.
Explain why: Students appreciate being included in the discussion and will be more likely to respond when they see its value to them.
General to specific: Begin with simple questions and move to more difficult ones.
Ask open-ended questions: Ask questions that provoke elaboration as opposed to "yes" or "no" questions.
Report back: Acknowledge all the feedback students gave, summarize the results with a chance to clarify the feedback and address what you can and cannot change.
Change: Implement changes in your teaching for those aspects you have control over.
Observation: Use what is happening in your class to determine how it is going.
Timing: Feedback can be gathered in the first class, mid semester, end of semester, or whenever it's most appropriate.
Interpreting Feedback
When receiving feedback, ensure that you take the time to fully examine it and devise an action plan to use it effectively. This is an important opportunity for growth and learning. Identify major themes in the feedback and remember not to focus too much on individual responses. Discussing feedback with colleagues can help put the results in perspective and they may be able to provide ideas for implementing change. Try the following prompts to help you summarize feedback:
As a result of this feedback, I have learned that...
In the future I will improve by...
Methods for Collecting Feedback
Below are two examples of methods that you can use to collect feedback from students. Both methods require little preparation and can quickly be done during class on paper or using online survey tools.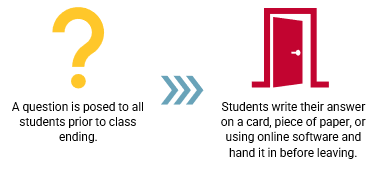 This assessment technique engages all students and you can use it to ask questions about students' understanding or your teaching methods.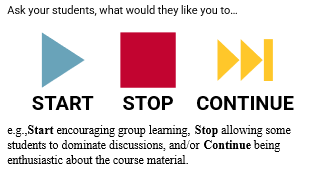 Make sure you describe the nature of the feedback you require so you can use this information to develop your teaching approaches and support your students' learning.

Now it's your turn! Check out the complementary activities to plan how and when you will be collecting feedback from your students this semester.
Adapted From:
Allen, R.R. and Rueter, T. (1990). Teaching Assistant Strategies: An Introduction to College Teaching. Dubuque: Kendall/Hunt Publishing Company.
Davis, B.G. (1993). Tools for Teaching. San Francisco, CA: Jossey-Bass Inc.
Race, P. and Brown, S. (1999). 500 Tips for Tutors. London: Kogan Page Limited.
TA Feedback Guide. (2014). Teaching Commons, York University.
Additional Resources:
Contact Us
E-mail the Office of Teaching and Learning (otl@uoguelph.ca) with any questions related to your teaching and learning needs.
Upcoming Events & Workshops